Following the pandemic-induced slowdown, the number of leased condo units has returned to a historically high level.
Read the Latest on the Market Now: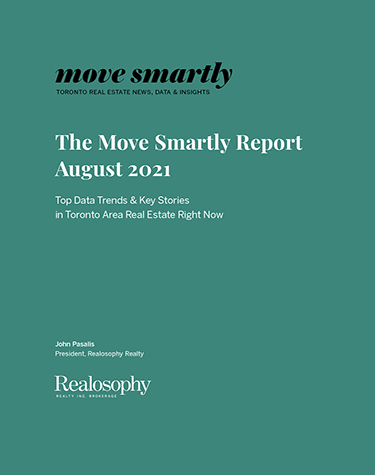 Click on video above to watch, read full story below and click on report to the left to get all the latest analysis and data on the market now.
Want to hear more? Join author John Pasalis each month for a free public webinar on the latest data & insights on the market now. Learn more
Toronto's condominium (condo) rental market, characterized by an unprecedented drop in demand due to the onset of the Covid-19 pandemic in March 2020, has been showing signs of rebounding strength since the end of 2020 - and now has been red hot over the past couple of months.
Back in January 2020, I posted on Twitter that we were seeing signs of strength in the condo rental market. This was based on actual rental data and on anecdotal accounts of demand including those of our own clients looking for rentals and from the number of tenant applications we were receiving when represented rental owners looking to rent their units.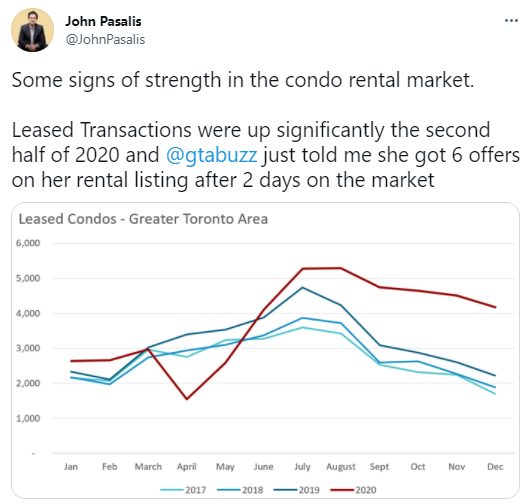 While the number of rental transactions were quite high towards the end of 2020, so were the number of new listings, making it difficult to determine just how competitive the market was and whether the market was heating up or cooling down.
But the key trends moving into 2021 was that the number of leased transactions relative to new listings was trending up and the months of inventory (MOI) was trending down, suggesting declining relative supply - both signs that suggested the condo rental market was heating up.
And that is precisely what happened.
The charts below are for condominium rentals in the City of Toronto only and do not include condo rentals elsewhere in the GTA (the City of Toronto accounts for roughly 80% of the condominium rentals in the GTA).
We can see below that the number of leased condo units has remained at a historically high level since the second half of 2020.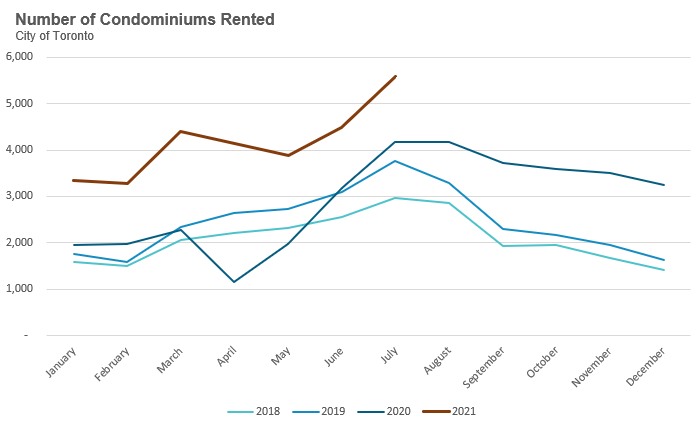 What's behind this demand?
In the second half of 2020, some of these leased transactions were from existing tenants who were taking advantage of declining rents to either upsize to a nicer unit (often for the same price they were paying in their existing unit) or to move laterally to a similar unit for a lower monthly rent if their current landlord wasn't open to reducing their rent in the wake of the pandemic-induced sudden drop in demand for rentals.
But we were also seeing a return in demand from tenants for traditional reasons including a) moving out of parental homes b) moving out of shared accommodation and c) moving closer to downtown Toronto. The decline in rental prices we saw in 2020 likely made some of these moves possible.
But over the past 4-8 weeks, we have been seeing renewed additional demand from students who plan to attend their university/college classes in person once again this fall.
When looking at the number of new rental listings coming onto the market,
we can see that rental listings are down year-over-year, but are up significantly above the listing volumes in 2018 and 2019.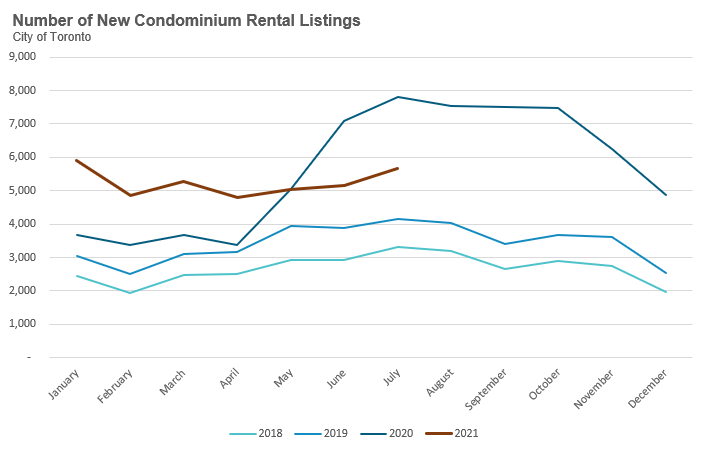 The year-over-year decline in new listings is due to the fact that condo rental listings surged just after the initial COVID lockdowns in March 2020 as tenants moved out of the city.
But as I mentioned earlier, the more important trend was that the ratio of leased condos vs. new condo rental listings was trending up since the second half of 2020, suggesting that demand for condo rentals was starting to outpace the supply of new listings.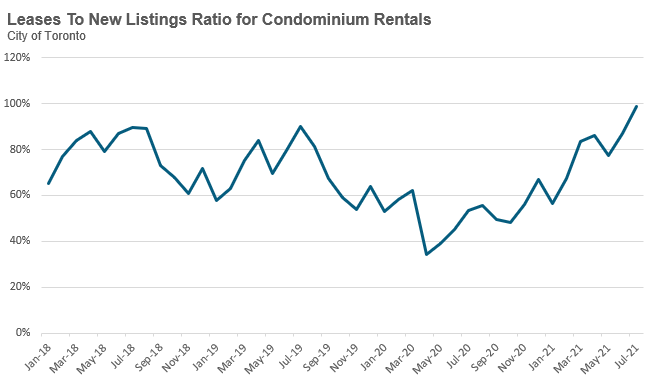 Despite that, inventory levels for condo rentals remained stubbornly high until November 2020 when they peaked at just under 3 MOI before beginning to trend down. In July 2021, there was just 0.5 MOI - a sign of a very competitive market.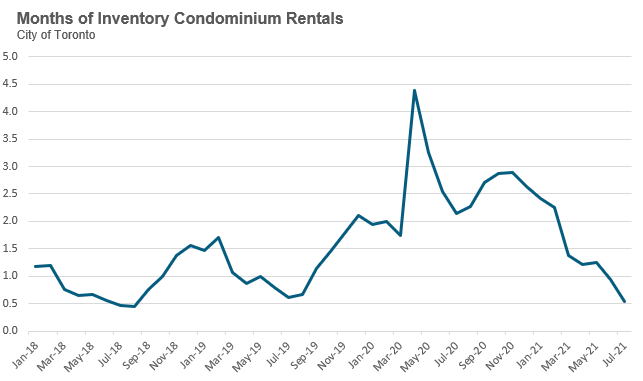 This tightly supplied market means we have started to see more tenants competing for the same rental unit, leading some tenants to offer a price that is above the landlord's asking price. When we look at the percentage of rental units that were leased for more than their asking price, we can see this surge from 6% in March 2021 to 24% in July.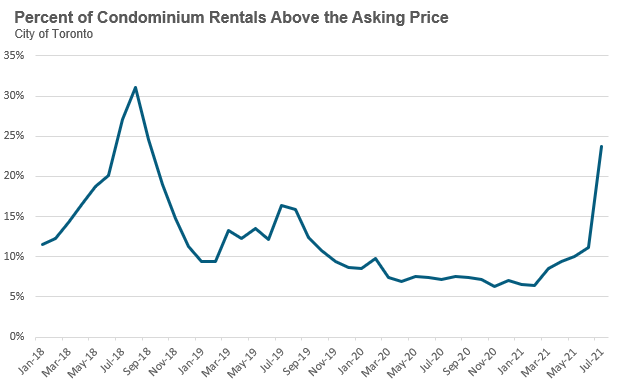 This has also pushed average rent prices up from $2,045 in February to $2,334 in July.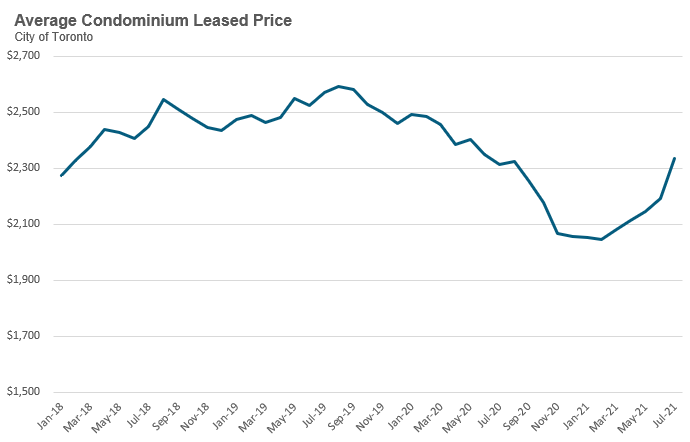 As we move into the fall market, a decline in demand from students should take some of the heat out of the competitive condo rental market.
The Move Smartly Monthly Toronto Area Market Report is powered Realosophy Realty Inc. Brokerage, a residential real estate brokerage serving Toronto and the GTA. A leader in real estate analytics, Realosophy educates consumers at Realosophy.com and MoveSmartly.com and helps clients make better decisions when buying and selling a home.
Email report author John Pasalis, Realosophy President
Share This Article